PianoArc captures the camera at the Superbowl Halftime Show.  Sweet!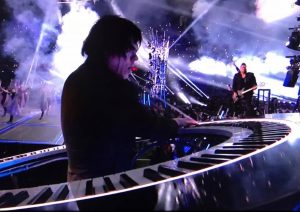 That was Brockett Parsons, playing his Brock360 circular keyboard on the stage with Lady Gaga at the Superbowl Half-Time show.  Way to go Brockett!
Here's the offical NFL Video – best close up around 2:52:
Join us on Twitter to spread the love and the news!
@pianoarc360 @brockettparsons #pianoarc
Very exciting moment for PianoArc!  While we knew the keyboard was heading to Houston, we didn't know if the camera would actually find it – but there were some great closeups.  Sorry, but I think our website crashed for a bit!
We want to hear from you – so stay in touch with us via our Contact form!