To send a note, please use our contact form. For pricing and terms please complete our  Pricing and Terms Request Form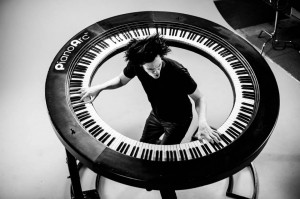 Overview
PianoArc is a provider of astonishingly creative keyboard designs.  We've reimagined the world of keyboard performance and deliver groundbreaking, performance-grade keyboard creations.   As a design and builder of these "Exotic" keyboards we also welcome custom requests.  Whether it's the finish, the stand design, or the control features – or any aspect of keyboard manufacture, we strive to accommodate the demands of the world's top players and venues.
Background
We designed and built the world's first circular keyboard controller, the "Brockettship", used by Brockett Parsons on the Lady Gaga Born This Way 2012-2013 and the 2013-2014 ArtPop tours.  The PianoArc "Brockettship"  has performed across the world, starting in Seoul, South Korea in May 2012 and is currently in residence at a music studio in Santa Barbara California.
The sports world took notice in 2015 – and the media-savvy Atlanta Hawks pro basketball team took delivery of a customized semi-circle  – we call it the Dual Wing in 2016.  The in-stadium musician, Sir Foster, brings a high-energy performance to home games where the visual and the musical ignite.
PianoArc Evolved
In 2016 we released updates to both our entire physical and electronic design that deliver even more on-stage power, visual excitement and options.
PianoArc's cameo appearance during Superbowl LI captured Brockett Parsons performance on the Brock360 and brought our server to a halt – something we're sheepishly proud of – we were honored at the magnitude of inquiry from around the world.
At the 2020 NAMM show, we debuted our latest design featuring newly integrated Z pad controllers and a new cabinet design that lows easy swapping of the top case color.  So cool – it had some folks jumping for joy (see picture).  
---
At PianoArc, we're a team of keyboardists, designers, technicians and passionate believers in the possible.  We are pioneers and performers, balancing musicality with a touch of mad science. We are based in the Greater Boston area with engineering and design in San Diego.
For product information, please check out our  Info Request Form.