To send a note, please use our contact form. For pricing info, please complete the new Quote Request Form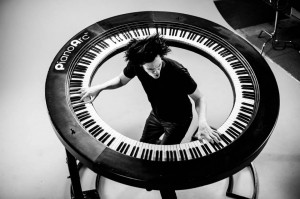 PianoArc is a provider of astonishingly creative keyboard designs.  We designed and built the world's first circular keyboard controller, the "Brockettship", used by Brockett Parsons on the Lady Gaga Born This Way 2012-2013 and the 2013-2014 ArtPop  tours.  We strive to re-imagine the world of keyboard performance and deliver ground breaking, performance grade keyboard creations.
We're a team of keyboardists, designers, technicians and passionate believers in the possible.  We are pioneers and performers, balancing musicality with a touch of mad science. We are based in the Greater Boston area.
The PianoArc "Brockettship"  has performed in across the world, starting in Seoul, South Korea in May 2012.
Partial Specifications:

Style:  Circular Controller Keyboard.
Keys:  294 Keys: 3 contiguous eighty-eight note keyboards – 1 thirty note control section, 3 pitch bend/mod per full keyboard section.
Inputs/Outputs:  Expression, Sustain.  USB MIDI, MIDI IN/OUT.
Action:  Custom Hybrid grand/synth action.  Sprung (unweighted) wood keys, rocker pivot with PNOscan custom optical sensing.  Adjustable key height and key dip.
Size: Approx 6′ outer diameter.
Stand:  Tiltable +/- 80 degrees.  Height adjustable.
Weight:  Top:  190lbs, Stand 65lbs.  Can vary depending upon customer materials preference.
Price:  Pick your features on our Quote Request form